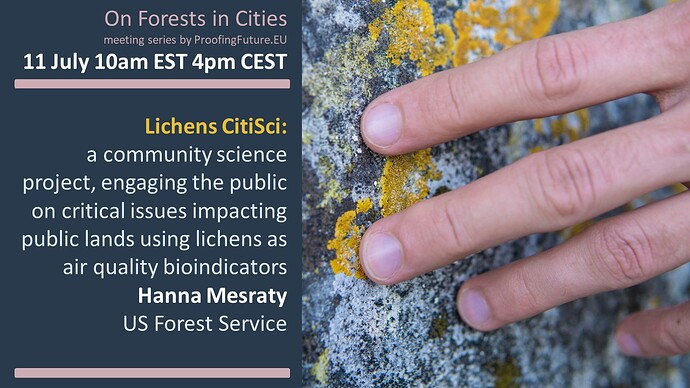 Hear from and exchange with Hanna Mesraty about Lichens CitiSci:


Here you can register & Get the Meeting Link
Lichens CitiSci is a community science project and an opportunity to engage publics around critical issues impacting public lands while using lichens as air quality bioindicators.

Hanna Mesraty manages and directs the program, works across stakeholders and community partners, desigs the public engagement strategy, and writes accessible scientific content.

As an ORISE* fellow with the U.S. Forest Service, Hanna Mesraty is helping find new ways to communicate the importance of good air quality. [*ORISE stands for Oak Ridge Institute for Science and Education, and the program's purpose is to provide practical scientific training experiences for domestic and foreign scientists through temporary contractual fellowship appointments, administered by the Oak Ridge Associated Universities (ORAU).]

Note: This meeting is independently hosted by Proofing Future: Bridging People + Ideas.
above mage CC BY-NC-ND proofingfuture.eu